Quick Look: New Audi A4
Nafisa Akabor, 02/10/2020
0
4 min

read
Audi South Africa showed off its updated A4 2020 with Audi connect at a small event in Johannesburg this week. We did not get to drive the vehicle, but rather experience what's on the inside now.
The new A4 is being described as tauter, sportier and more intelligent. It features Audi connect with MMI touch display. The engine options come with a mild-hybrid system (MHEV) that aides in efficiency and comfort; it does not give it an electric boost like you see in other cars.
If you're big on details, you will notice the new touches on the outside: broad, flat and the middle is set lower.
LED lights are now standard. Audi says the 35 TFSI features low beam, high beam and daytime running lights. The 40 TFSI and S4 will feature a higher version of LED including a different daytime running light design and dynamic indicators for the rear. Available as an option is the top-of-the-line Matrix LED headlights with fully automatic high beam.
The A4 will come as Standard, Advanced and S Line for the exterior. The latter has a high gloss styling package as standard. There are 12 paint colours, including a new "Terra grey".
Packed with technology
Audi emphasised the new tech inside the car, a first for its sedan, which I previously experienced on the Q8 with some new services. While the Smartphone Package is standard across the range (includes Car Play and Android Auto), the Technology Package is an extra and includes MMI navigation plus, MMI touch and the full functionality of Audi connect.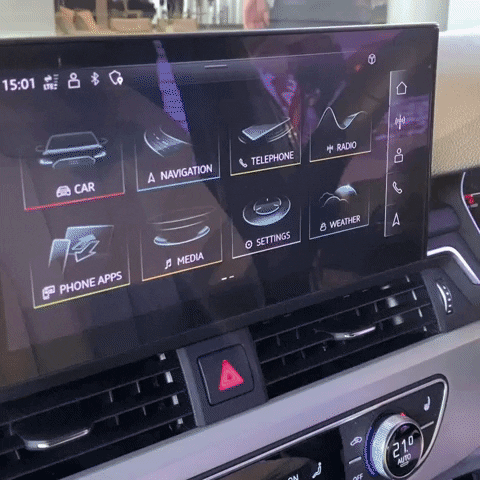 For the first time, an Audi has a host of online services which offer advanced infotainment, navigation and Car-to-X services which take advantage of the swarm intelligence to service, safety and convenience built into the connected A4.
The interface on its 10.1-inch MMI touch display is like a smartphone, complete with dragging and dropping icons, a notifications display and options to create an account to save your personal settings. You can go into guest mode if someone else is driving.
The maps function is something I haven't seen before:
The new @audisouthafrica A4 with #AudiConnect uses Google's real-time traffic info with a Google Earth overlay but uses Audi's mapping system. First I've seen on car's navigation system. pic.twitter.com/EIwHmb0Zjk

— Nafisa Akabor (@nafisa1) September 30, 2020
You can search with voice, hand written/scribbles, typing on the keyboard etc. The voice commands understand natural language and phrases used in everyday speech. I didn't get to try this.
The vehicle has real-time traffic info mentioned on my tweet, and works with an embedded SIM that comes with the vehicle, with free data for three years. The vehicle supports multiple online connected functions, all of which can be accessed on the myAudi app.
The myAudi app is described as the "central nervous system" for Audi connect and allows digital access to the vehicle, anywhere any time. Drivers can access important info about the car, manage data, configure certain services. You can check real-time info like fuel level, range, service appointments, warning messages and other functions. Like setting a geo-fence for your vehicle and you will get notified if the car entered those zones. However, the app does not let you turn the air conditioner on, for example.
View this post on Instagram
The A4 will come with Car2X services as part of Audi Connect (as per press release):
Safety and service features (licenced for 10 years and standard on the Audi A4) will support the driver in the event of damage, breakdown or minor accidents. This enables an emergency call or roadside assistance directly from the vehicle in order to access emergency towing, ambulance, police or fire brigade support. Notification of when a service is due is also integrated into the functionality and will trigger an automatic prompt to the registered Audi Dealer.
Security & convenience services (part of the optional Technology Package) will include remote functions (model-dependent) that network the vehicle with the smartphone.  This will allow the vehicle to be protected against unauthorised access, giving the driver control of selected vehicle functions by conveniently using the myAudi app. Features include car finder, remote lock/unlock, geo-fencing/speed alert and theft/alarm notification. A vehicle status report for information like the oil or fuel levels, mileage or service intervals are easily viewed on the smartphone as well.
Prices
| | | | |
| --- | --- | --- | --- |
| Model | Power (kW) | Torque (Nm) | Price |
| Audi A4 35 TFSI 2L Standard | 110 | 270 | R644 000 |
| Audi A4 35 TFSI 2L Advanced | 110 | 270 | R663 000 |
| Audi A4 40 TFSI 2L  Standard | 140 | 320 | R681 500 |
| Audi A4 40 TFSI 2L Advanced | 140 | 320 | R700 500 |
| Audi A4 40 TFSI 2L S line | 140 | 320 | R726 500 |
| Audi S4 TFSI 3L | 260 | 500 | R944 500 |
Nafisa Akabor
Nafisa Akabor was introduced to technology back in the 80s and by the late 90s, she doubled up as family tech support along with her first encounter with dial-up internet. She's been playing around on these internet streets before Google was born; it's no surprise she ended up becoming a tech journalist in 2007. Nafisa started dabbling with EV articles back in 2017 and hasn't looked back.
Related posts
ABOUT
Recharged is an independent site that focuses on technology, electric vehicles, and the digital life by Nafisa Akabor. Drawing from her 16-year tech journalism career, expect news, reviews, how-tos, comparisons, and practical uses of tech that are easy to digest. info@recharged.co.za