Mercedes-Benz says EVs have economic advantage in SA
Nafisa Akabor, 24/01/2023
0
3 min

read
Mercedes-Benz introduced its fifth electric car to the local market in Johannesburg last week, amid daily rolling blackouts by Eskom since the year began. The EQE follows the arrival of the EQA, EQB, EQC and EQS in Q3 of 2022.
Mark Raine, co-CEO at Mercedes-Benz SA, says South Africa is in an ideal position to go electric for mobility.
"Why? Because we've been dealing with the challenges of electricity over the last few years. Especially in the Mercedes segment, a larger portion of customers have gone off the grid or are thinking about going off the grid," he says.
Raine's view is that if people are not looking at renewable or solar energies, feeding electricity out of the network like it's done in most parts of Europe, is going to be a long-term challenge.
"But in South Africa, because of the same disruptions we face, the concept of owning an electric car when you've got your own solar installation makes so much sense," he said.
Raine says, if you run an electric vehicle and you solely source the energy from Eskom, you've got a price advantage where you're going to spend roughly a maximum of R2 000 a month on charging versus up to probably R7 000 on fuel.
"My interpretation is, if the electricity prices increase, the same will happen on fuel prices. I believe there is always going to be an economical price advantage to driving electric vehicles."
Raine acknowledges the Mercedes EQ brand was late launching its EVs in SA, but predicts a strong pick-up in electric sales, despite supply challenges.
"We've got a sustainable product and pricing and I think the take-up will be very strong and exponential. My prediction is that post 2026, at least for Mercedes-Benz, we will have a share of 50% of Mercedes EQ being sold out of our portfolio."
He touches on the common perception that electric cars are expensive. "For me, it's not  especially with electric cars. It's not only about the list price, it's about the cost of ownership."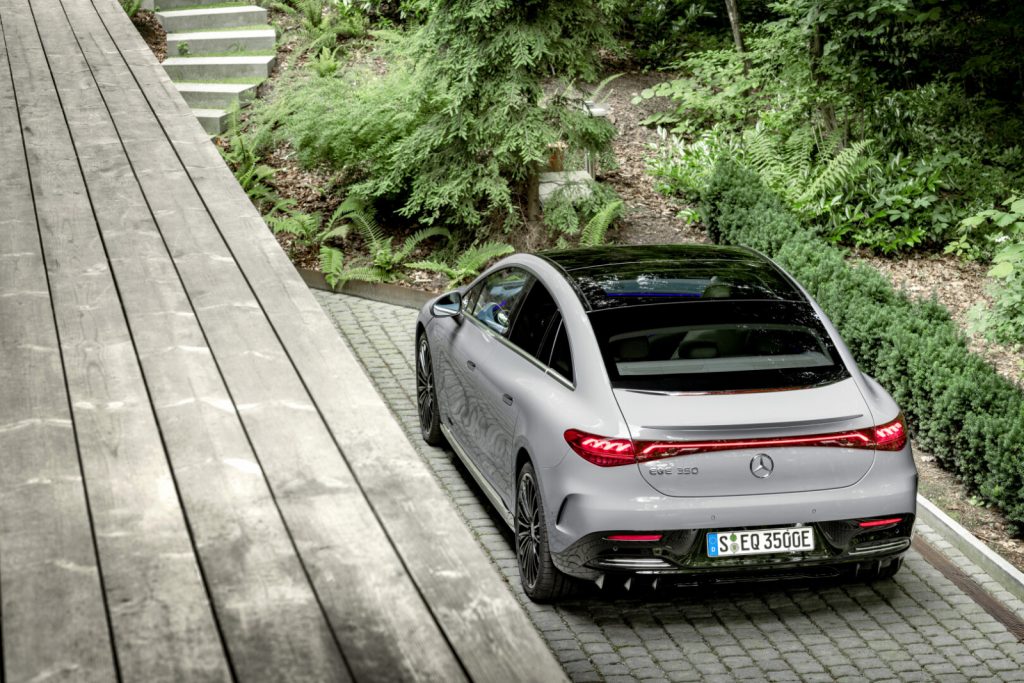 Introducing the EQE
The luxury EQE sedan will be available in two variants at its launch: the EQE 350+ and the AMG EQE 43. Both vehicles have a 90.56kWh battery, a top speed of 210km/h, and will rapidly recharge at a DC charger from 10% to 80% within 32 minutes. It supports a maximum charging speed of 170kW on the fast chargers.
Single-phase AC charging at 11kW from 0 to 100% will take 9 hours and 25 minutes, whereas three-phase AC charging at 22kW speeds will fully recharge the vehicle in under five hours.
The 350+ has a rear drive system with a total output of 215kW and 565Nm of torque. It accelerates from 0 to 100km/h in 6.4 seconds and promises up to 645km of range (Worldwide Harmonised Light Vehicle Test Procedure).
The AMG all-wheel drive variant has 350kW of power and 858Nm of torque. It accelerates from 0 to 100km/h in 4.2 seconds and offers up to 535km of range (Worldwide Harmonised Light Vehicle Test Procedure).
Unfortunately, journalists were not given an opportunity to drive the EQE at the launch event.
The EQE is expected to go on sale at the end of the first quarter, starting at R1.8 million for the 350+ and R2.2 million for the AMG 43
Nafisa Akabor
Nafisa Akabor was introduced to technology back in the 80s and by the late 90s, she doubled up as family tech support along with her first encounter with dial-up internet. She's been playing around on these internet streets before Google was born; it's no surprise she ended up becoming a tech journalist in 2007. Nafisa started dabbling with EV articles back in 2017 and hasn't looked back.
Related posts
ABOUT
Recharged is an independent site that focuses on technology, electric vehicles, and the digital life by Nafisa Akabor. Drawing from her 16-year tech journalism career, expect news, reviews, how-tos, comparisons, and practical uses of tech that are easy to digest. info@recharged.co.za