Hands On: Huawei Mate X
Nafisa Akabor, 20/03/2019
0
4 min

read
Huawei South Africa invited me to take a look at its first folding screen device, the highly anticipated Mate X. This device needs no introduction, you probably saw it all over the internet; it also happens to be the first device to have won the most awards at MWC Barcelona.
Finally got to touch the @HuaweiZA Mate X in the 'flesh'. It's 5.4mm thin when open. Damn 😍 pic.twitter.com/VlCIlqoQdi

— Nafisa Akabor (@nafisa1) March 20, 2019
I'd like to point out that media were only allowed to touch the device in its various forms, we were not allowed to open and fold it ourselves. This was handled by marketing director at Huawei SA, Akhram Mahomed, as per my gif below: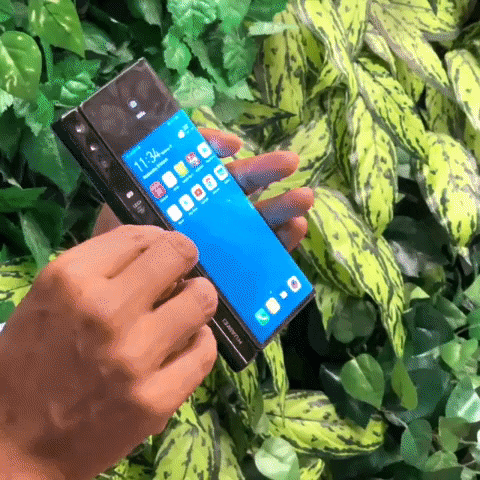 Since I already had a brief hands-on with another folding device, which came out first, the Galaxy Fold where we were not allowed to take pics, I can confirm that the Huawei Mate X has impressed me a bit more. Firstly, it is much thinner – 5.4mm when open; secondly the device is clearly smartphone-first (whereas Samsung looked more impressive as a tablet-first); thirdly, the edge-to-edge display is better. To name a few things.
Huawei have done an excellent job for a first-gen product, and whether you like to admit it or not, it's exciting to look at, hold and marvel at the technology. As Akhram pointed out, the market is stagnant, something I've been saying for years too, so this is definitely making things more exciting once again.
To address the elephant in the room (lol), you might wonder who needs a folding screen device? I know I don't (not yet, and I know this will live on the internet forever, ha), Huawei says they are targeting people who want to do more on their smartphones. I interpret it as those who love phablets like the Galaxy Note and to an extent, the iPad Pro; but want one device for both a smartphone and a tablet. So being able to fold a large device and take it everywhere while being productive would be appealing.
To briefly touch on the size of the device, when opened it's 8-inches, with no notch. When folded, the front screen is 6.6-inches and the back fold is 6.38-inches. The idea is to expand it for productivity, but also if you want a large view finder for taking pics. There's no front-facing camera but you can take selfies by turning it around, and you also get a view finder on both sides of the screen.
The hinge itself is patented and has over 100 components to give it a back-to-back fold. The screen is plastic of course, and looks seamless when opened. It has panel on the one side to give it an ergonomic grip, which also houses all the hardware like camera, chipset, etc. It will offer dual SIM connectivity and a battery that is 4500mAh. Fast charging comes standard with its 55W plug that takes it to 85% in 30 minutes.
I've had some of you ask me what the software is like, and while I didn't get a chance to test that specifically, I only saw videos on how you can browse in split screen mode, two web browsers side by side; or have your email open on one side, and the photo gallery on the other, which then allows you to drag and drop if you want to email pics. The important thing to note about this particular device we saw earlier, is that a) it is the only one in South Africa and b) it's still a prototype, which is why we couldn't open it and test things properly. We can't exactly review a product that is not final.
My first impressions of the Mate X is that I'm impressed with what I saw for a folding screen device, and how Huawei executed it. As always in South Africa, we wait for the pricing to be announced before throwing opinions around if it's worth it or not. My opinion remains the same: there is a market for everything, and if you can afford it, why not.
Nafisa Akabor
Nafisa Akabor was introduced to technology back in the 80s and by the late 90s, she doubled up as family tech support along with her first encounter with dial-up internet. She's been playing around on these internet streets before Google was born; it's no surprise she ended up becoming a tech journalist in 2007. Nafisa started dabbling with EV articles back in 2017 and hasn't looked back.
Related posts
ABOUT
Recharged is an independent site that focuses on technology, electric vehicles, and the digital life by Nafisa Akabor. Drawing from her 16-year tech journalism career, expect news, reviews, how-tos, comparisons, and practical uses of tech that are easy to digest. info@recharged.co.za